Santorini - Greece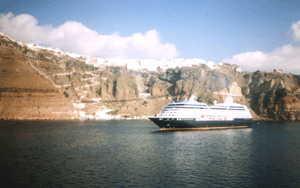 This is a pic of, we think, the old R8 ship which then became Minerva II at anchor in what is a live volcano - Santorini. The pathway behind takes you up to the town of Thera. You can walk up, take the cable car, or if you're feeling brave ride a donkey - take some shin pads.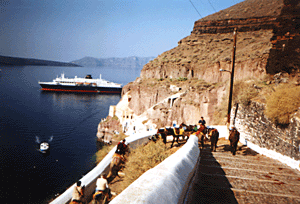 Climbing up to Thera - Minerva I in the background. Avoid the donkeys at all costs.
Korinth Canal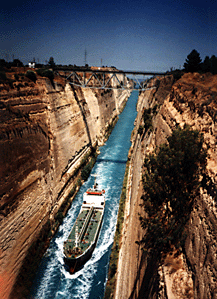 Whilst we were watching this boat go through the canal we heard screams of people bungy jumping beneath us off the bridge we were standing on - mad!!!
Ephesus - Turkey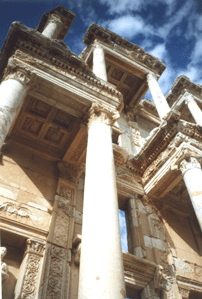 Once the Roman Capital of Asia Minor. Fantastic Roman site if you're into that sort of thing.
Kas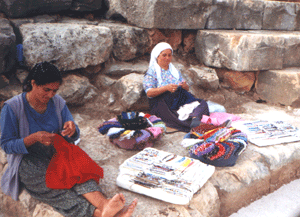 Just stumbled across these ladies sewing in an old amphitheatre. Very pleasant they were too.
Istanbul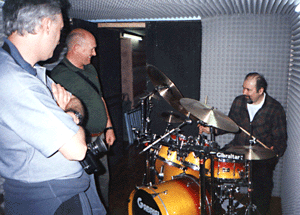 Many trips to Istanbul going round the mosques, bazaar & underground water system. But this time we went up 'music alley' - music shops on both sides of the street for miles. Mike (drummer) was looking for a cymbal, so we visited this drum shop & just remember all being blown away by the shop owner playing his kit in the back room. We all came out with drums, cymbals & who knows what else.
Fethiye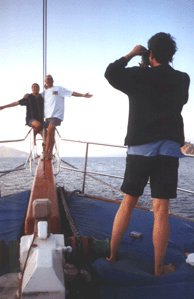 Relaxing on a crew outing - Carter & Rutters alias Di Capprio & Winslet.